Production
Since it is inception in 1955, AF&Co.'s industrial activities have always been centered at its main factory unit in Kutur, located in the heart of the Nile delta, in the Province of Gharbeya (Egypt).
It is today the oldest family-owned operation and company in the field of aromatics in Egypt. Over the course of its 65+ years of history the facilities have been continuously upgraded to meet ever more stringent national and international regulations.
Production
Over the past 20 years, R&D has been the driving force at AF&Co. developing new extraction techniques to provide, for example, a fully certified organic alternative to petroleum-based extraction processes, or the discovery of new distillation techniques to produce oils where only concretes/absolutes existed before (e.g., Jasmin oil, Rose centifolia oil, Calendula oil, etc.), as well as introducing new botanical varieties to the Egyptian aromatic palette.
AF&Co.'s Filtration & Batching Unit is dedicated to the filtration of our essential oils (in some case under sub-zero temperatures conditions to dry the oils of possible residual moisture content) and to the batching of lots and sub-lots to meet the ever stringent specifications of our clients with regards to oil composition as per their in-house requirements under ISO/TC-54 specifications. The Unit is all stainless steel equipped, no glass, no plastics (only Teflon is used) are involved in the filtration or batching process of the oils.
Storage
AF&Co. has invested in a modern storage warehouse (on its factory ground) with a total (present) capacity of 135'000 kg under controlled AC and subzero conditions when required for specific products. The building housing the warehouse has additional storage capacity for a further 135'000 kg — whenever the need arises.
We added another picture in production:
It presently boasts the largest available distillation & extraction units in the country with a capacity of some 250'000 liters resulting from an expansion and revamping program started in 2017 which is certified since 2019 under FSSC22000 standards. A nascent cold-pressing activity (fatty oils) is also to be accounted for. Our real wealth lies in the accumulated generational experience of our workers, technicians and managers.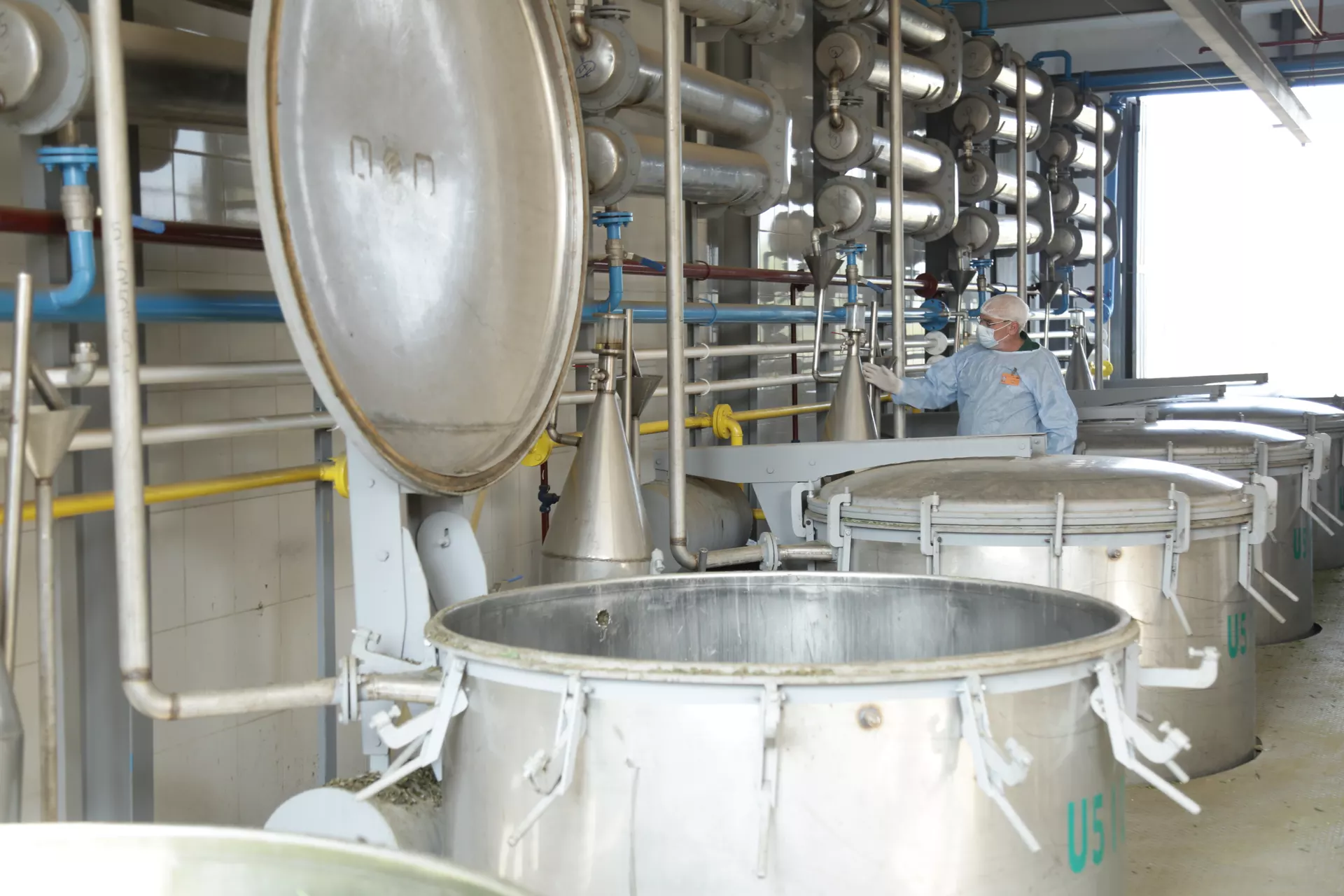 AF&Co. believes that agricultural sustainability stems from the continuous training and development of its agro-team combined with deeply rooted agricultural Egyptian traditions.